Culture | 3 min read
Nowsta: A Rising Star on the Inc. 5000 List of Fastest Growing Companies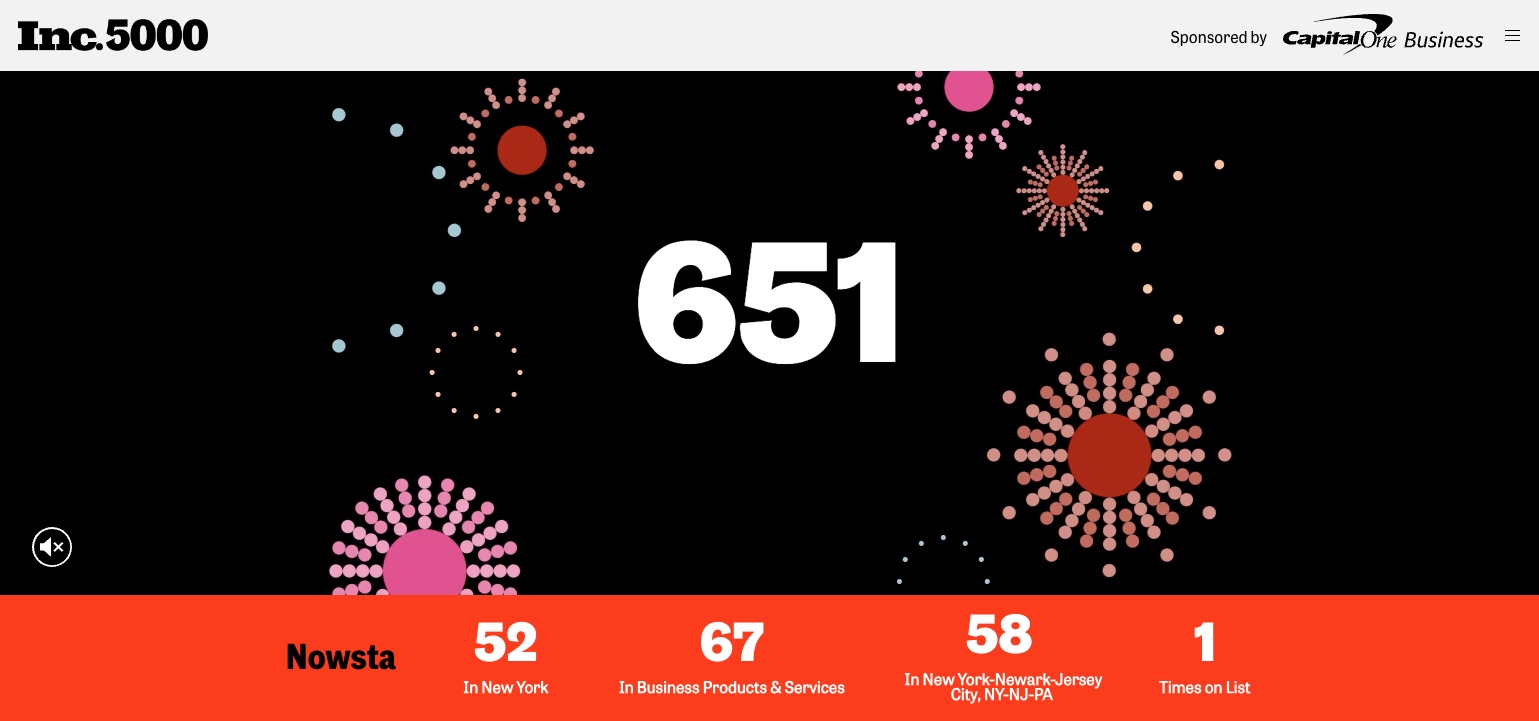 In the realm of business success, recognition is one of the highest validations of an organization's dedication, innovation, and impact. Nowsta is honored to have achieved a remarkable feat by securing a spot on the prestigious Inc. 5000 list of America's fastest-growing private companies for 2023. This achievement not only reflects Nowsta's exceptional growth but also underscores our transformative influence on the world of work.
A Remarkable Milestone
Securing the 651st position on the Inc. 5000 list is a testament to Nowsta's unwavering commitment to revolutionizing workforce management. With an impressive three-year revenue growth of 900%, we have showcased our ability to not only adapt to the evolving business landscape but also to flourish in it. We're so thrilled to be pioneering technology and innovation that will enable the labor landscape to thrive.
The Inc. 5000: A Mark of Excellence
The Inc. 5000 list is a revered annual compilation that recognizes companies that have exhibited exceptional growth within the economy's dynamic private sector. The list's alumni include some of the most iconic brands, such as Facebook, Microsoft, and Under Armour, among others. Nowsta's inclusion in this prestigious lineup places it in the company of visionaries who have disrupted industries and shaped the business landscape.
A Vision Fueled by Innovation
Nowsta CEO Nick Lillios expressed his gratitude and enthusiasm, stating, "Nowsta is honored to be recognized by Inc as one of America's fastest-growing private companies. The last three years have been transformational for Nowsta, and being named to the Inc. 5000 list is a testament to the success of our customers and the industry-leading products our team has built."
We know the ascent to the Inc. 5000 list is more than a recognition of growth; it's a validation of the vision that drives the company. By providing cutting-edge solutions that empower businesses to optimize their workforce management, we'll continue to reshape the way organizations approach staffing, communication, and efficiency.
Elevating Workforce Management to New Heights
But our journey doesn't end with the inclusion on the Inc. 5000 list. We know our work is far from over. The recognition just serves as a launchpad for even greater achievements and innovations. As the business world navigates through unprecedented changes, our commitment to delivering best-in-class technology for the flex economy remains steadfast.
Embrace the Nowsta Difference
Nowsta's recognition on the Inc. 5000 list is a celebration of its growth, innovation, and impact. It's an invitation for businesses of all sizes to discover the transformative power of efficient workforce management. By leveraging Nowsta's advanced technology, organizations can unlock efficiency, profitability, and growth in a rapidly evolving world.
Join the Journey
To learn more about Nowsta's journey and its mission to reshape workforce management, visit Nowsta's homepage or careers page. Embark on a journey toward streamlined operations, empowered employees, and lasting success. The future of workforce management starts here.